The 2013 Brudner Prize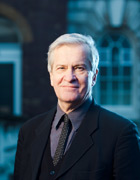 The 2013 Brudner Prize was awarded to Richard Dyer, who holds a professorship in the Department of Film Studies at King's College, London.

Richard specializes in cinema, particularly Italian cinema, queer theory, and the relationship between entertainment and representations of race, sexuality, and gender.
The Brudner Prize, established in 2000, is awarded annually to an accomplished scholar or activist whose work has made significant contributions to the understanding of LGBT issues or furthered the tolerance of LGBT people. The Brudner prize winner gives a Prize Lecture at Yale and in New York City. The prize comes with an award of $5,000.

Richard's Yale lecture was on "The Sissiness of Music in Rope and Tea and Sympathy" 
and was presented September 10, at Sudler Hall attended by 40 members of the Yale community. A reception followed at The Graduate Club.
He followed this with a lecture on 
"The Angel's Song: Nino Rota, Music and Film"

 the next day September 11 at New York's Restaurant Patrick at Club Quarters in midtown Manhattan. He was introduced Karen Nakamura, Chair, LBGT Studies, and Associate Professor of Anthropology and East Asian Studies at Yale. The lecture was preceded by a cocktail reception and a celebratory dinner after.
Richard's speculative lecture traced the markers illuminating Italian composer Rota's sexuality to be found in his music, social circle, and subject matter. The Academy Award-winning composer was a private person working at a time when homosexuality, if known, could damage a career. To illustrate how he went about decoding Rota through his music, Richard opened the lecture with a clip from Fellini's film Casanova of a Baroque opera with a homoerotic storyline that Rota composed.

Richard was active in the Gay Liberation Front in Birmingham and a member of the Gay Left Collective. In 1977 he curated the first season anywhere in the world of representations of homosexuality in film at the National Film Theatre in London. The screenings coincided with the publication of a collection of essays Gays and Film that he edited. Richard has given talks at film festivals including LGBT festivals in Amsterdam, Hong Kong, Krakow, London, Montreal, New York, Rotterdam, San Francisco, Stockholm, Turku and Turin.

He appeared in the film version of Vito Russo's The Celluloid Closet. His Now You See It is a historical study of films made by, about and for lesbians and gay men up to the 1980s. His articles on gay male culture were collected in The Culture of Queers (2002).

Richard Dyer studied French at St. Andrews University and was one of the first people to be awarded a PhD in Cultural Studies at the University of Birmingham. He taught Film Studies at Warwick University, where he was made the first full Professor of Film Studies in the United Kingdom. He has been a visiting scholar in Antwerp, Bergamo, Chicago, Copenhagen, Cornell, Dublin, Gothenburg, Naples, New York (NYU), Pennsylvania (Annenberg School), Rutgers, Salerno, St Andrews, Stanford, Stockholm, SUNY Stony Brook, Weimar and Zürich.

His work combines an attention to the aesthetics of entertainment with a concern with social representation. His books include Stars, Only Entertainment, The Matter of Images, White, Pastiche. He is a Fellow of the British Academy and has received honors from the Society for Cinema and Media Studies, University of Turku and the British Association of Film, Television and Screen Studies.

James Robert Brudner '83 established Yale's Brudner Memorial Prize and Lectures through his will as "a perpetual annual prize" for scholarship and activism on gay and lesbian history and contemporary experience.

James Brudner was an AIDS activist, urban planner, journalist, and photographer. A man of wit and compassion, outsized knowledge and curiosity, Jim valued both academic inquiry and direct action. He spent 12 years as a policy analyst for the City of New York. He also earned an MA in journalism from New York University and wrote for various publications on gay- and AIDS-related topics.

Jim became a member of ACT UP, the Treatment Action Group, and other organizations after the death of his twin brother, Eric, of AIDS in 1987. He worked on treatment and prevention issues with the National Institutes of Health, pharmaceutical corporations, and federal agencies. Jim died of AIDS-related illness on September 18, 1998 at the age of 37.

Past recipients of the Brudner Prize include Yale's own George Chauncey, historians Lillian Faderman
, Jonathan Ned Katz
, and John D'Emilio
, South African jurist Edwin Cameron
, activist and attorney Mary Bonauto
, and poet Cherríe Moraga
.

Listen to the podcasto r watch the video of the 2014 James R. Brudner '83 Memorial Prize Lecture on Yale's LGBT Studies Department's website.